Where the game is played:
Stadium: Via Del Mare
City: Lecce
Capacity: 33876 spectators13:40
Welcome to the live match of the 6th day of Serie A, Lecce and Monza face off.13:40
It is shortly before the start of Lecce-Monza. Both teams looking for their first league victory.13:40
LECCE formation (4-3-3): Falcone – Gendrey, Pongracic, Baschirotto, Pezzella – Bistrovic, Hjulmand, Helgason – Di Francesco, Ceesay, Banda.14:16
MONZA formation (3-5-2): Di Gregorio – Izzo, Pablo Marì, Marlon – Birindelli, Pessina, Rovella, Sensi, Carlos Augusto – Mota Carvalho, Caprari.14:17
LECCE bench: Brancolini, Umtiti, Tuia, Cetin, Gallo, Askildsen, Oudin, Lemmens, Gonzalez, Blin, Listkowski, Rodriguez, Colombo.14:18
MONZA bench: Cragno, Marrone, Bondo, Barberis, Caldirola, Antov, Machine, Colpani, Valoti, F. Ranocchia, Molina, Gytkjaer, Ciurria, Vignato, Carboni.14:20
Baroni's choices: forward the trident made up of Ceesay, Banda and Di Francesco. Out Strefezza. Hjulmand in queen, Pongracic and Baschirotto in defense.14:20
Stroppa's choices: in attack the tandem Mota Carvalho-Caprari, Birindelli and Carlos Augusto the outsiders. Three-way defense with Izzo, Pablo Marì and Marlon. Out Petagna.14:20
Lecce have both scored and conceded goals in each of their last 10 Serie A home games.13:42
1 '
First half of LECCE-MONZA. The match is directed by the referee Pairetto.15:00
3 '
Birindelli reaches the bottom, cross deflected, Falcone blocks.15:03
5 '
Rovella's midfield launch, heads Baschirotto away.15:05
6 '
Monza medical staff on the field, Izzo hit by a ball.15:06
7 '
Banda retrieves the ball at the edge of the area and concludes, shot blocked.15:08
10 '
Carlos Augusto on the ground in pain after a fortuitous conflict with Gendrey.15:10
12 '
Pezzella puts in the center, Pablo Marì heads free the penalty area.15:13
14 '
OPPORTUNITY LECCE! Baschirotto with his head touches the net of the advantage, the ball is just outside.15:15
16 '
Cross-shot from Banda's right winger, the ball goes out on the bottom.15:16
18 '
Caprari's cross from the left, Pessina's header rejected by Pezzella's body.15:19
21 '
On the developments of a corner, Izzo tries to stunt, without success.15:21
24 '
Ceesay in the fight area, but does not find the moment to kick towards the goal.15:24
26 '
Cooling break in progress, game stopped for a few moments.15:26
28 '
Band bowl in the area, Di Francesco misses the appointment with the detour by a whisker.15:28
29 '
BIRINDELLI booked for incorrect play on the Band.15:29
32 '
Pessina snatches the ball from Pezzella, Monza starts again.15:33
34 '
Punishment from an inviting position for Monza, foul on Caprari.15:34
35 '
GOAL! Lecce-MONZA 0-1! Network of Senses. Prowess of Sensi, winning free kick: right to cross the barrier, nothing to do for Falcone.
Look at the player's card Stefano Sensi15:36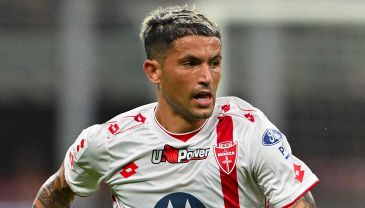 38 '
Pezzella reaches the bottom, but does not find room for the cross in the center.15:39
41 '
SENSI warned for foul play on Banda.15:41
43 '
A series of feints by Banda in the left lane, corner for Lecce. Beaten without success.15:44
45 '
The Pairetto referee concedes four minutes of injury time.15:46
45 '+ 2'
Foul in attack by Mota Carvalho, Baschirotto remains on the ground.15:48
45 '+ 3'
GENDREY booked for foul play on Sensi.15:48
45 '+ 5'
End of the first half: LECCE-MONZA 0-1. Sensi scored in the 35th minute.15:50
Monza ahead of half time, balanced first half: on 14 'Baschirotto close to the header, on 35' Sensi directly from a free kick unlocks the result with a surgical conclusion.15:52
First goal in Serie A from a direct free kick for Sensi.15:53
46 '
LECCE substitution: Gonzalez enters Helgason exits.16:05
46 '
MONZA substitution: Molina enters Birindelli.16:05
46 '
Start of the second half of LECCE-MONZA. It starts from the result of 1-0 for the guests.16:06
48 '
GOAL! LECCE-Monza 1-1! Gonzalez network. The action starts from an initiative by Banda, Ceesay's cross rejected in diving by Di Gregorio, Gonzalez in the area bags with his right.
Look at the player's profile Joan Gonzàlez16:10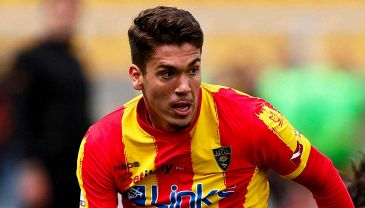 51 '
Monza reacts, but Molina's cross is too much on the goalkeeper.16:11
52 '
Warned DI FRANCESCO for unfair play on Rovella.16:12
53 '
Rovella remains on the ground after Di Francesco's foul, health workers on the field.16:13
55 '
Ceesay extends for Banda, Molina intercepts the ball.16:15
57 '
Rovella returned to the field after the blow he suffered, but he is still in pain.16:18
58 '
MONZA substitution: Colpani enters Rovella exits.16:18
59 '
MONZA substitution: Ciurria enters Caprari exits.16:19
59 '
MONZA substitution: Valoti enters Pessina.16:19
61 '
Sensi in the control room, on its sides Valoti and Colpani.16:21
62 '
LECCE substitution: Gallo enters Pezzella exits.16:23
63 '
LECCE substitution: Colombo enters Ceesay exits.16:23
65 '
Set kick by Bistrovic, Di Gregorio on exit collects the ball.16:25
68 '
Lecce forward, but the referee interrupts the action for an offensive foul after a Gallo cross.16:29
70 '
Souls on the pitch, called Marlon and Gonzalez.16:31
72 '
Lecce protests for an alleged touch of the arm in the area of ​​Molina, the referee signals to continue.16:32
74 '
Cooling break in progress, excited moments after the Lecce protests.16:34
76 '
Substitution Federico Di Francesco Pablo Rodríguez Delgado16:35
#Live #Lecce #Monza #Serie #Live #match #Virgilio #Sport